FNQ HOSTS AUSTRALIA'S FIRST BIOREACTOR FORUM
BIOREACTORS IN THE WATER QUALITY IMPROVEMENT SPOTLIGHT
Australia's first international Bioreactor Forum was held in the Wet Tropics last month.
Interest in these innovative water treatment systems has spiked over the last two years, with the Wet Tropics Major Integrated Project (MIP) installing seven across the Tully and Johnstone basins.
The two-day event brought together researchers, technical specialists, extension officers, growers and funding bodies from Australia and abroad.
Day one included a visit to bioreactor trial sites on farms, where attendees interacted with landholders and delivery teams involved in the research, design and installation of the treatment systems.
Day two involved focused discussion on the role of denitrifying bioreactors in sustainable food production and potential strategies to enhance their performance.
The MIP's place-based approach has modified traditional "textbook" wall and bed bioreactor designs and is trialling three other designs (in-drain, ag pipe and partial in-drain bioreactors), which were developed to suit the unique nature of Wet Tropics landscapes.
MIP Catchment Repair Coordinator Suzette Argent presented at the forum on designing bioreactors to fit within the Wet Tropics landscape.
"The input we receive from landholders has been a crucial part of the process," she said.
They've not only provided us with sites to implement trials, but invaluable knowledge on the lay of their land."
"Farming is full of science and it's rewarding to work alongside our farming community to trial water treatment systems that can improve sustainability, profitability and the quality of water flowing to the Reef."
Ms Argent hosted forum delegates at a MIP bioreactor site on a Mourilyan cane farm.
"The field trip was a highlight for attendees because they could see firsthand how bioreactors can be implemented to complement farming operations and improve water quality entering adjoining waterways," Ms Argent said.
Department of Agriculture and Fisheries Research Agronomist Rhianna Robinson coordinated the event and said they were pleased with the interest generated and contributions of everyone who attended.
"It was a networking and learning opportunity with local, interstate and international speakers sharing their experiences in installing bioreactors on farms," she said.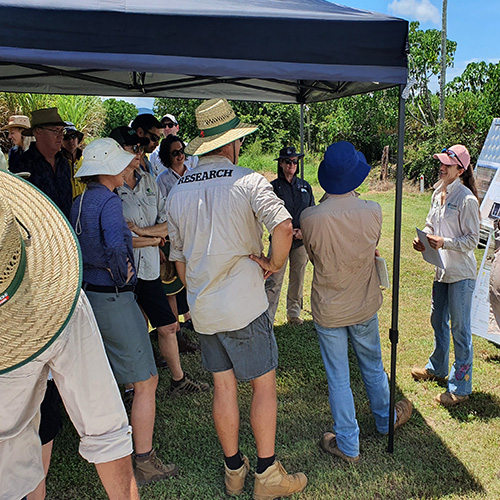 "It highlighted how much quality research is being conducted around the globe on denitrifying bioreactors.
"We received lots of positive feedback and it reinforced the need to keep different organisations connected to share knowledge and continue progressing our collective understanding of this technology, through the Bioreactor Network."
Bioreactors are woodchip-filled treatment systems that remove nitrate from water. Under waterlogged conditions, bioreactors work by supplying a carbon fuel source to bacteria that convert the nitrate in the water passing though into nitrogen gas.
The type of bioreactor best suited to the landscape depends on the lay of the land, how much nitrate is in the water being treated and the water flow.
The event was funded by the Queensland Government's Reef Water Quality Program and delivered by the Department of Agriculture and Fisheries.
The Wet Tropics Major Integrated Project is one of two large-scale reef water quality projects in Queensland that will become blueprints for innovative on-land practices improving water quality and protecting the Great Barrier Reef.
It is focused on the Johnstone and Tully catchments and is funded by the Queensland Government through the Queensland Reef Water Quality Program.
Monica Haynes
December 2, 2021
A boggy spot on a cane farm has been converted into high-performing wetland
Read More